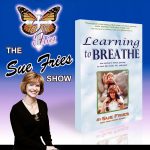 Just as a sailor uses the 'seven seas' to navigate the ocean, we can use the 'seven C's' of communication to navigate relationships, and better relate to one another.
What is the importance of communication? And isn't it important to know and be clear about what you're trying to say before you say it?
Sue shares the keys to communication that will help you better navigate the waters of your relationships with family, friends, and coworkers.