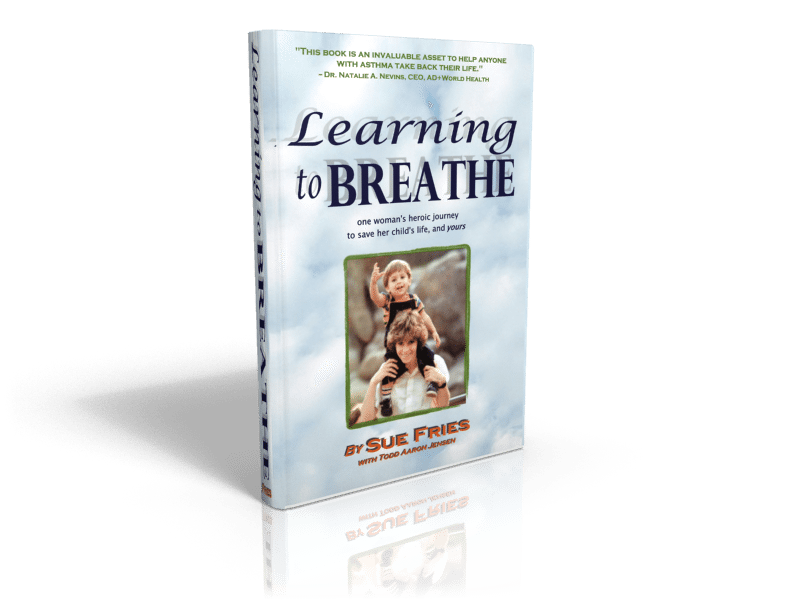 LEARNING TO BREATHE
A HERO'S JOURNEY FOR THE PARENT IN ALL OF US
PLUS… A BONUS CHAPTER FEATURING 22-STEPS YOU CAN TAKE TO REDUCE HARMFUL INDOOR ALLERGENS AND ASTHMA AGGRAVANTS IN YOUR HOME NOW!
What if your child could not breathe? What would you do? What would you give? How would your life change? When 4-year old Tyson Fries is stricken with the first of many devastating asthma attacks, his family's life is forever changed. LEARNING TO BREATHE is the riveting true story of how Tyson's mother, Sue, the most recognized, environmentally-friendly female pest control operator in the nation, squared off in a life and death battle against the asthma that threatened her young son's life and still affects tens of millions of Americans each year.
A hero's journey for the parent in all of us, a how-to manual for keeping your child healthy, written with the passion of a loving mother, the wisdom of a successful businesswoman, the devotion of a deeply spiritual woman, and the emotional charge and high-voltage suspense of a great thriller, LEARNING TO BREATHE is a must-read book – revealing previously untold truths about asthma, uncovering its secret causes, its surprising cures, the harmful indoor allergens that can aggravate them and, most importantly, how you can save your child's life with wisdom, compassion, and faith.
ABOUT THE AUTHOR
Thirty years ago, Susan Fries married into the glamorous business of pest management. And after 20 years in the business, she made a decision to change the direction of pest management to offer more environmentally responsible methods of extermination. Read more about Sue Fries …
NOTABLE REVIEWS
"This book is an invaluable asset to help anyone with asthma to take back their life."
"This important book elegantly records for us the effect of asthma on the patient and family. I highly recommend this book for patients, parents, and professionals."
"Essential reading… Heartrending, thrilling, and richly informative, Sue Fries' journey to save her son from asthma will inspire you to be more heroic in your own life."
"As a mother who has raised an asthmatic child, as well as someone who has lost a loved one to respiratory distress, I know firsthand the sheer terror of what most take for granted: God's gift of breath. In Learning to Breathe, Susan Fries singlehandedly confronts the battle against poor indoor air quality. In her quest to save her own son, she acquires a life-long mission: a better way to live, a better way to breathe. Quite simply, Ms. Fries life story is inspirational."
"Learning to Breathe is a heart-felt and thought-provoking journey of a family's quest for answers to a son's asthmatic condition. The author's search and eventual discoveries provide us with a compass for navigating through the morass of medical jargon about this nearly-epidemic condition."